Let us pamper you already in the morning: Every morning we quietly bring you a lovingly prepared selection of delicacies in front of your lodge, where you can then enjoy breakfast in peace and quiet in front of the fireplace or on the sun terrace.
Our mountain breakfast includes:
fresh organic bread rolls from the nearby bakery "Amhof"
croissants or cakes
local cheese and sausage varieties
jams from the Regiohof
natural yoghurt and muesli
freshly cut fruit in season
herb curd cheese
free-range eggs
coffee, tea
milk
freshly squeezed juice
butter
The mountain breakfast and welcome snack on arrival are included.
360° We source our products and ingredients from the local area from farmers and local partners.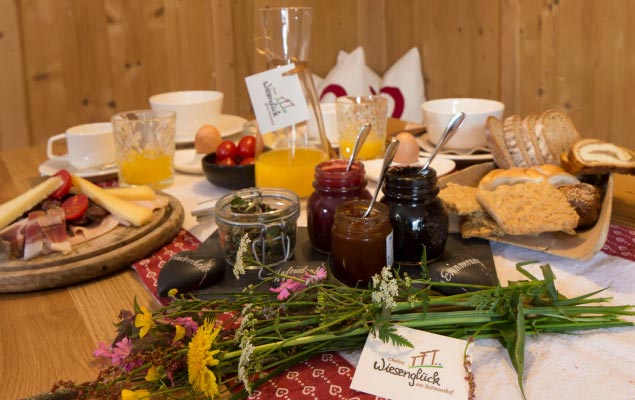 If you need a dose of romance on sunny days, then order the picnic basket, grab your darling and the picnic blanket… the lush meadows are yours.